This past June, I found a reason to repeat what might have been a once-just-to-do-it trip to Tavistock, ON for the World Crokinole Championships: I was able to convince my brother and my father to join Kieran and I. What a great time.
It would be hard for my father to not be aware of my bizarrely intense fascination with crokinole. Of course, as I share more of what I have learned with it, I think he gets it. Several attributes of the game, the people who commonly play the game, and the context in which people gather and compete all feel very natural to us. I suspect we'd find that our ancestor's backgrounds and values line up quite nicely with those of southern/central Ontario (the heart of crokinole).
So when I invited my father to join us, his curiousity outweighed his distaste for travel, and it was decided. This would be a great way to spend a weekend together. Morgan arranged the flights, I arranged the rental car and hotel and we were off.
Much like last year, I was able to reexperience the first time through new eyes and enjoy my father's reaction to a "civilized crowd." I was able to introduce him to Willard Martin and his brother, several of the elite players and stars of the "Crokinole movie."
The first highlight was Morgan's opportunity to get beat badly by Joe Fulop, who although far from his prime was still strong enough to beat a relative newbie decisively.
For me, I got to play with Bob Mader, one of my favorite people featured in the "movie". I also secured a 4-4 tie with the 2013 champion, Jon Conrad in the preliminary round. With 38 points and 51 twenties, I improved my performance from 2013 from 69th place to 38th place!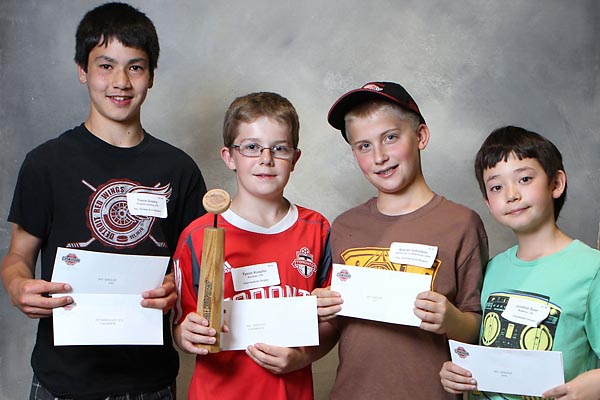 But the greatest highlight was Kieran's third place finish in the Intermediate division, making him the first of us to place in a competitive crokinole event, at the World Championships no less!
Posted Sat 07 June 2014 by Demian in Competition (WCC)